Nothing is over until it's over- no matter how old you can be.
I found this out over the weekend in a place I thought I may never have the chance to see, feel and experience in my lifetime – the Las Casas Filipinas de Acuzar (The Filipino Houses of Acuzar), a heritage resort in Bagac, Bataan, Philippines,  150 kms west of Metro Manila.
Through Google, I had a fairly good idea what to expect. But it was too far below from what I saw when we got there.
The Las Casas Filipinas de Acuzar is not just like any resort. It is a resort with a difference – it takes you back to between mid-Spanish colonial times and early American occupation.
In a touch of insanely creative genius (and lots of cash), the owner, Mr. José "Gerry" Acuzar, an architect, built replicas or bought Filipinos houses of the era, dismantled them "in situ,"  and rebuilt them, piece by piece, into his 40-ha lot in the province.
The result is like a storybook that is seen and felt, not read.
Mr. Acuzar's eye for perfection left nothing to chance – from the cobbled paths along each house, to the stone bridges that span the resort's waterways, and the attire the staff wears – all are reminiscent of that important period of the country's history.
And it has paid off. The Las Casas Filipinas de Acuzar is now one of the Philippines' most visited travel destinations and a favorite wedding venue.
Las Casas Filipinas de Acuzar:
The food is great, but the interior is astounding (this is where we had lunch).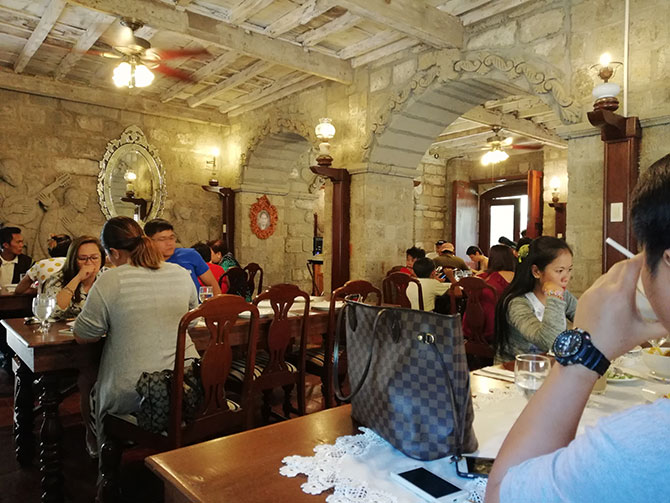 A tiny glimpse of the past (taken along the beach front) – how it must have looked in the mid 1800s, sans the passenger jeep.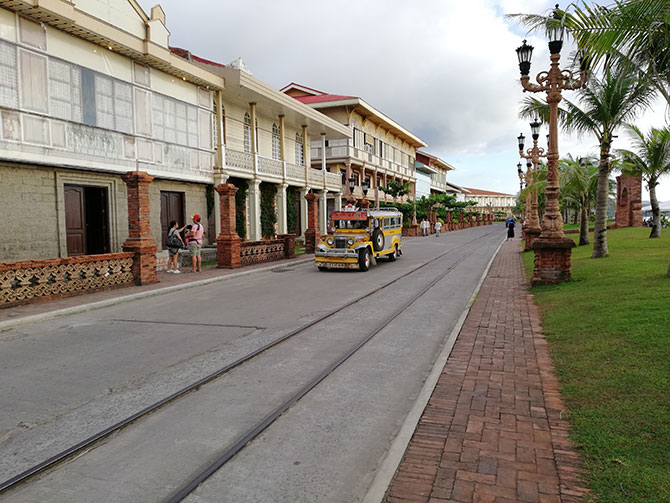 Fantastic view from elegantly made stone bridges – taken from the back entrance of our hotel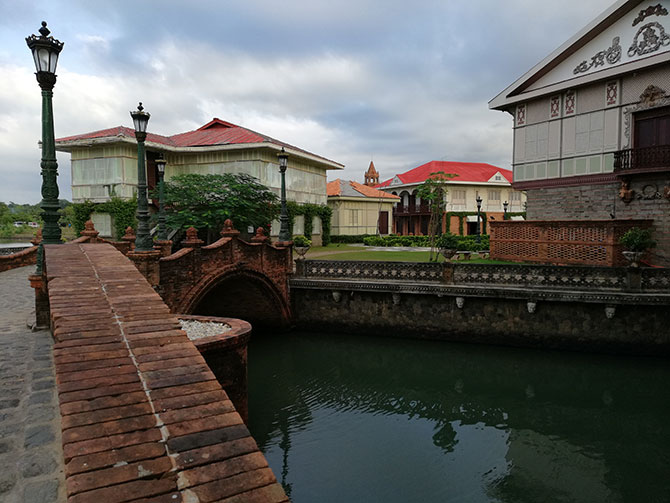 Old but stately – El 82 – the hotel we stayed in. It belonged to the famous Ongpins of Manila.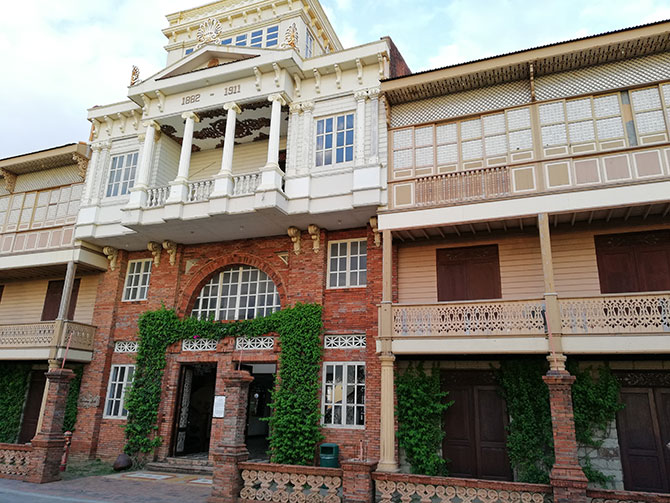 Lola Basyang and children eager to hear her stories: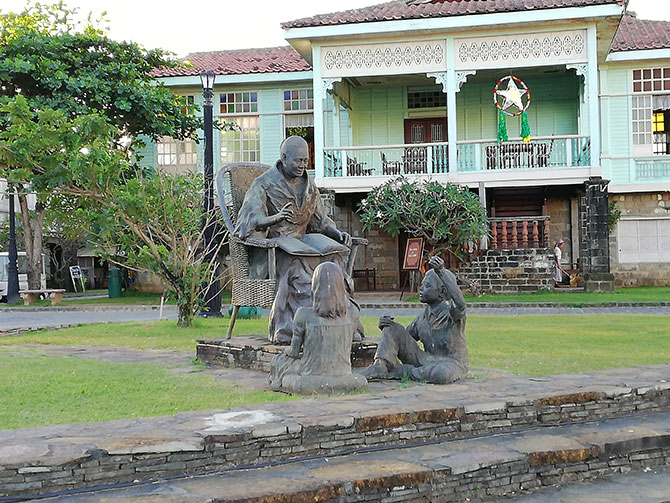 "Lola Basyang" is the pen name of Severino Reyes (February 11, 1861 – September 15, 1942), a Filipino writer and playwright and famous for his anthology of short stories that regaled children at the time.
Bridge of monsters: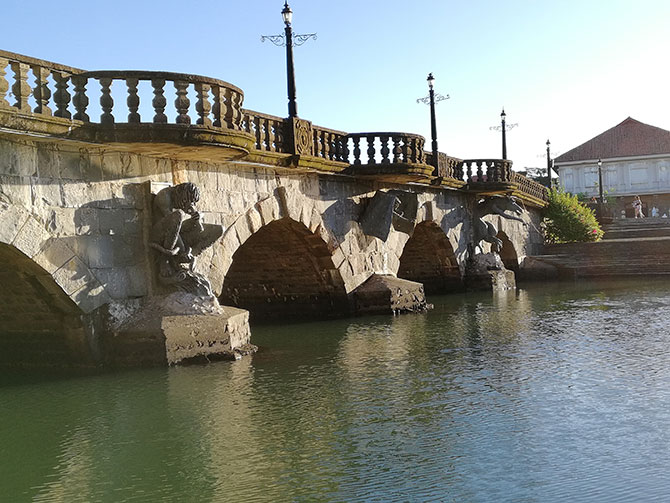 Lola Basyang's favorite evil characters, beautifully sculpted, attached beneath a breath-taking stone bridge (l to r:  kapre (ogre), mananggal (vampire), and the tikbalang (centaur)).
Hotel del Oriente – regal and colorful, then and now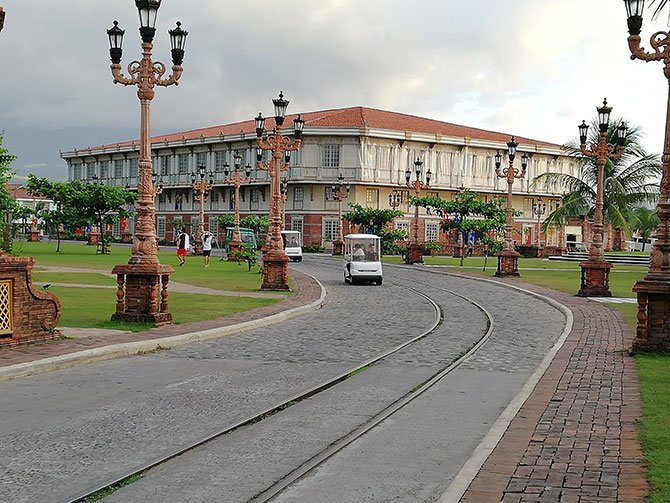 Hotel del Oriente was a first class hotel in Manila and the entire archipelago built by Don Manuel Perez Marqueti in 1889.
If you missed it then, don't miss it now.
The one and only – its plate states that it was the only red brick house during the period.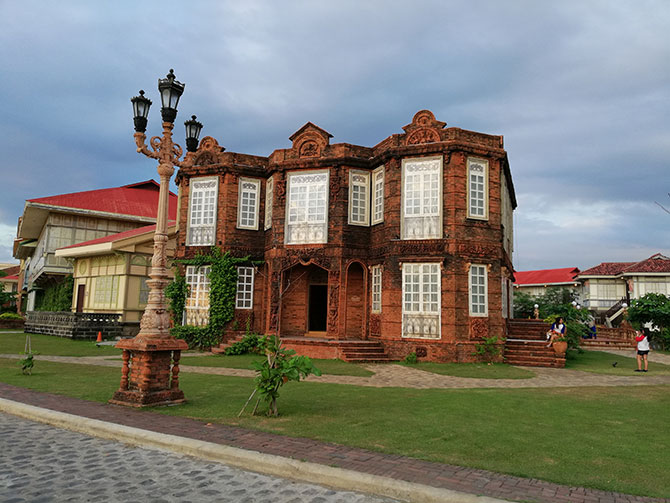 Then and now, it is still a sight to behold.
Want a ride?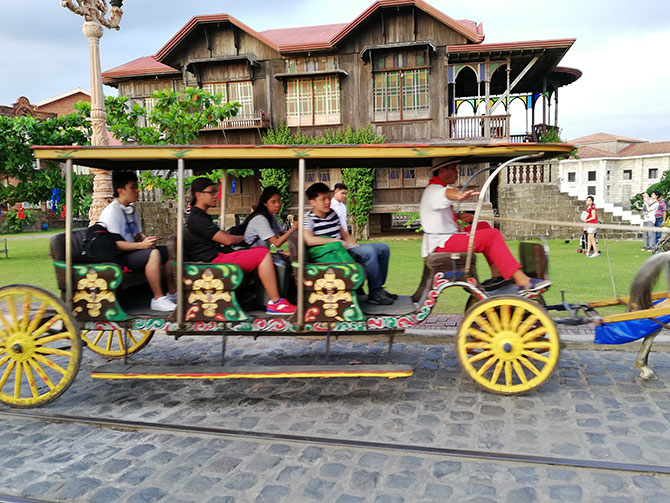 Tourists having a field day in a horse-drawn colorful carriage. At the back is Casa Hagonoy.
The other face of Las Casas Filipinas de Acuzar:
As unique as this resort is, it is also unique in its facility to provide beach-lovers an unparalleled space to romp, play games, or simply bond – barefoot – on the sand.
Its beachfront is as broad and deep and clean (probably cleaner) than that of Atlantic City's.
The beach – as long and wide as your legs can take.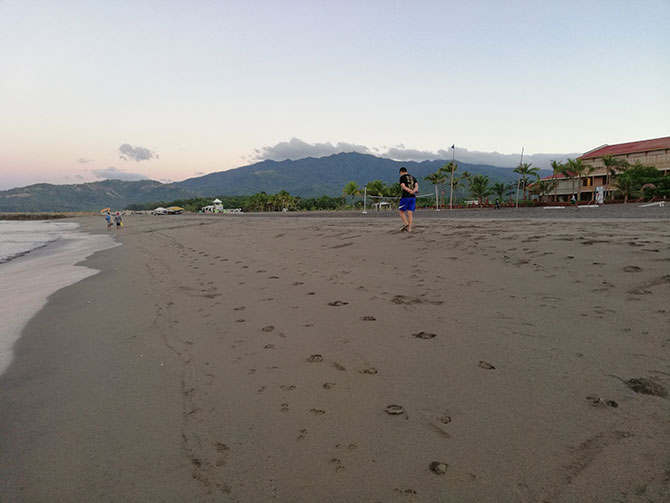 Or bond with friends in the midst of sea, sky sand – the elements of a happy and contented life,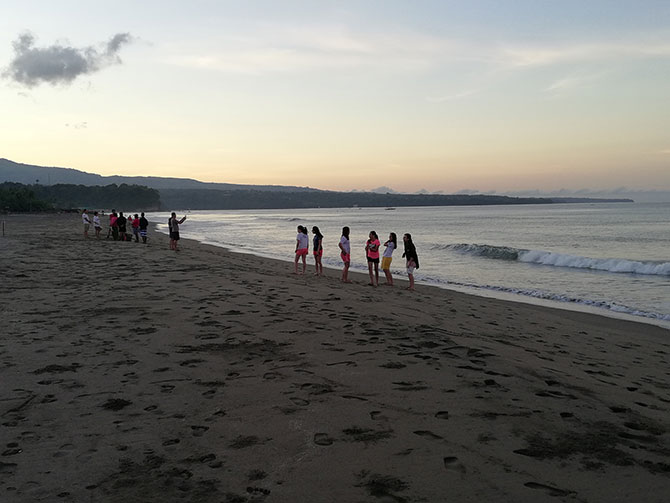 Or enjoy the spectacle of carabao racing.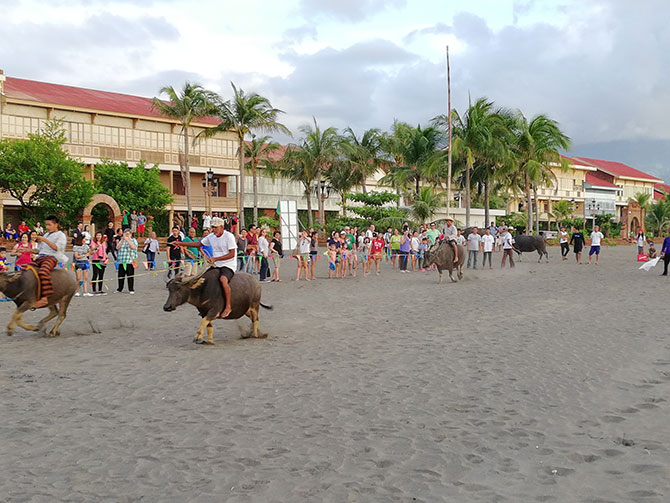 And when the sun starts it journey to the far side and make today a yesterday, it is the best place for contemplation and gratitude for having lived a day that will soon become a memory.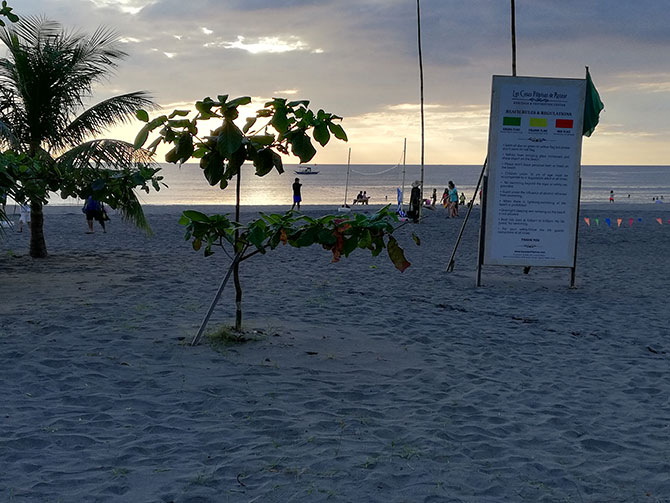 As a writer, I pride myself with having a deep vocabulary. Yet, Las Casas Filipinas de Acuzar, left me speechless. I can use all the superlatives in the English language, but deep in my gut is the nagging feeling that I have not described it well enough.
Note: All photos were taken from my new Huawei Nova 2i – courtesy of my daughter. LOL!
~oOo~
.