How to Make Delicious and Healthy Soup – Part 1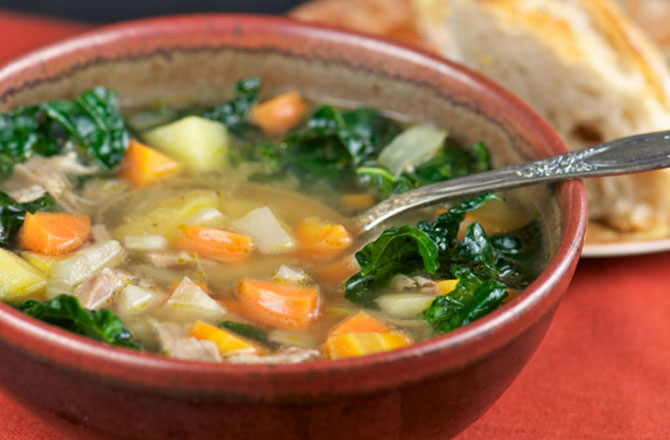 Is soup a regular part of your meal?Do you normally have soup with your meals?
I dot is with mine. It whets my appetite.It
My favorite is a vegetable soup made up of moringa leaves, moringa leaves, eggplant, and squash. Occasionally I indulge on meat broth (chicken, pork or beef), but laden with head or Chinese cabbage, and potatoes.
They are super delicious and healthy, too.
I take several spoonfuls of it before taking solid food. It is warm and soothing to the mouth, and unbelievably satisfying to an empty stomach.
You should try it if you are not into soups yet. Other then physical sensations, soups have three other healthy benefits. These are:
1. Soup  increases the vegetable content in your diet – something uncommon to a typical American diet;
Vegetable soups, aside from being easy to prepare, contain a lot of nutrients necessary to augment a seniors daily dietary needs.
2. It is filling – soups can be as filling as solid foods, In fact, they can be taken as a meal provided it is rich in proteins, according to a January 2005 article published in the "Physiology & Behavior," magazine.soups can be as filling as solid foods and can be taken as a meal, provided it is laden with protein;
3. Soups have low energy density – they don't make you gain weight because they have very low calorie content.-calorie
Not all soups, no matter how delicious, are healthy, however.
Cream-based soups like the New England chowder soup is an example. It contains 201 calories and 10 grams of fat. By comparison, a vegetable soup only has 90 calories and 0.8 grams of fat.
Canned soups are definitely a no-no. They have high levels of bisphenol A, or BPA, which may increase your risk of heart disease and diabetes, according to the June 2011 issue of "The Journal of the American Medical Association." Besides, they are full of sodium
So if you want to have a delicious and healthy soup, make your own in your kitchen.
You can start with the immune-boost soup.
Immune-Boost Soup:
Ingredients:
– 1 small yellow onion, diced;
– ½ cup chopped mushrooms (maitake, or portabella);
– I head escarole, roughly chopped (you can use kale or chard);
– 1 can, low-sodium white beans (lima beans can also be used);
– 1 quart, organic low-sodium chicken broth stock;
– 1 tablespoon, olive oil
Preparation:
– Sautee diced onions and mushrooms in olive oil;
– Add broth stock and beans;
– Boil. Then add escarole;
– Simmer the mixture for a few minutes, then add salt and pepper to taste.
Let the mixture cool down to sipping temperature. Voila! You have a delicious and healthy soup.
Health Benefits:
As we age, the body undergoes two critical changes (among others) – loss of sensitivity of the taste buds and the slowing down of metabolism.
The first can be solved by eating something sweet and delicious to the tongue, while the second by eating healthy foods to reinforce the body's immune system which is affected by the drop in metabolic rate.perk Loss of sensitivity is often cured by eating something sweet and delicious to the
Fortunately, the main ingredients of the immune-boost soup, mushrooms, and escarole can do both.
1.  Mushrooms:
Mushrooms are delicious and healthy due to its high dietary fiber content, Protein, vitamin C, Folate, Iron, Zinc, and Manganese.
They are also high in vitamins D and B6, Riboflavin, Niacin, B6, Pantothenic Acid, Phosphorous, Potassium Copper, and Selenium.
2.  Escarole:
This veggie is full of vitamins and minerals like vitamin A, K, and Folate. Even a half-a-cup serving contains vitamins C, E, and B, and Calcium, Potassium, Manganese, Phosphorous, Iron, Sodium, Copper, Manganese, Zinc, and Selenium.
No wonder it is called immune-boost soup.
Eating healthy foods is a must for any age. It becomes a necessity as we age because of the deterioration of some of our physiological functions, which can be compensated by a good diet.offset by a good diet.
And you don't need a degree in culinary arts to do that because there is a horde of DIY healthy recipes on the Internet, which you can easily and cheaply do at home.
Please help other senior citizens by sharing this or subscribing to my newsletter to get a weekly update about the exciting, often bittersweet, life of an elderly.
Image: https://urbanwellnessclinic.com/5-immune-boosting-tips-to-help-transition-into-autumn/
~oOo~