How to Treat a Gay in the Family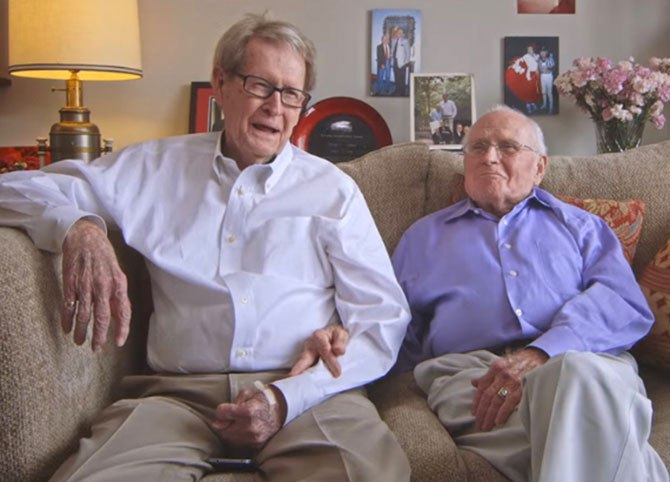 I am surrounded by gays, but this one tops them all…
"Uncle, I want you to meet my husband, David."
Immediately, my jaws dropped and I was transfixed not knowing whether to jump with joy or drop dead with embarrassment. I was totally taken off guard that I froze – unable to give the couple a hug or a congratulatory handshake.
Why? You see, husband David, apparently married my nephew, not niece.
Same-sex marriage is not only taboo in my country's strictly religious culture, it is also not allowed by law (they married in Australia). To have a close relative, a nephew, marrying another man is nothing short of a near-death experience; my ancestors must have turned in their graves.
Don't get me wrong. I have nothing against gays. In fact, I am surrounded by them. There is a gay in every generation of both sides of my family, i.e., a brother, an uncle, close and distant relatives, not to mention close friends. Even I was effeminate as a child my Mom wanted me to become a priest, and had I more than one son, the other would probably be gay, too.
I am ambivalent towards them. I know that their sexual orientation is not their fault. In fact, I sympathize with them for having to face the stigma of being gay everyday of their lives.
If you have a gay in the family, as I do, treat him with respect and understanding – especially when they are old and grey. Their sexual orientation is a work of Nature which they couldn't do anything about as you can't do anything about yours.
Don't be swayed by ill-informed statements like that of Ben Carson's that being a gay is a choice. Nobody would choose to live a life of constant harassment, ridicule, abuse, or be ostracized by the mainstream.
Would you?
I once had a lively chat with two gays in a coffee shop. I wanted to pick their brains on how it is to be gay. Well, both are earning a living and, at the same time, supported by closet lovers.
Even as a child, they knew that they were "different," and had to fight a long battle of attrition against family members who couldn't accept them as they are. They won, ultimately.
That's how it is with gays. Before making a public "debut," they have to face the same gauntlet of disapproving family members. For them, that is the toughest hurdle. Once they gain acceptance at home, let the general public be damned.
Younger gays are a raucous bunch, even vulgar. There is nothing sacred for them and are always ready to take a swipe at anybody or anything that frowns on their sexual orientation. And they are fearless fighters for their rights. Never lock horns with a gay. You will surely lose.
Age mellows them somehow, and elderly gays are more subdued, introspective, genteel, and act accordingly. But that doesn't improve their lot in the eyes of society in general.
They still are subjected to unfounded restrictions you and I are spared from. For example, gays are…
1.  Childless and alone in their old age:
Studies show that gays are four times less likely to have kids compared to non-gays of the same age group.
This leaves them with without any help when they need it most.
Relying on government programs is not encouraging either. Medicare  doesn't cover everything for a long-tern nursing home care and, according to the National Bureau of Economic Research, only 3% of  senior gays are covered with a private long-term insurance.
Elderly seniors' old age future is anything but rosy.
2.  Poorer than non-gays:
Gays, even today, suffer from employment discrimination. This leaves them with hardly any savings when they reach retirement age.
A study done by the University of California, LA, shows that 4.9% of elderly gays (collectively called LGBT) are poorer compared to non-gays. Overall, 42% of elderly gays suffer from financial difficulties at retirement.
3.  Still discriminated upon:
Despite gaining much acceptance, gays still feel biases against them.
For example, gays are often not welcomed in some senior centers where they could socialize with other seniors and to fill out important paperwork dealing with government assistance programs for seniors.
Even the professional staff at these centers is, in most cases, not trained to handle the peculiar needs of gays.
4.  Having peculiar health problems:
Many gays suffer from mental issues that affect their lives like loneliness, depression, isolation and thoughts of suicide, according to SAGE (Strategic Advisory Group of Experts).
This because a lot of them dd not seek treatment early on for fear of being considered mental cases. Now it is considered to be due to a genetic framework that didn't perfectly fit – not a mental illness.
Another health issue is HIV. In 2011, more than a quarter of the 1.2 million with HIV in the U.S. were gays, according to the CDC (Centers for Disease Control and Prevention).
There are currently more than 39 million people in the U.S, aged 65 years and older, who identify themselves as gays (LGBTs, for lesbians, gays, bi-sexual, transgender). That's a lot to reckon with; a lot of votes no politicians can ignore.
You can mock them, ostracize them, call them names or label them but that can't change what they are. They cannot do anything about their sexual orientation as much as you cannot do anything about yours.
At the end of the day, you are left with no choice but accept them as they are. Besides, other than their sexual orientation, they also need the same things you and I need; the same hopes and aspirations. They also expect the treatment from society you expect.
And they are a gregarious lot to be with.
Please help other seniors by sharing this. Better still, subscribe to my newsletter to get a weekly update of the exciting and bittersweet life of a senior.
Image: http://www.advocate.com/marriage-equality/2016/1/25/watch-sweethearts-candy-celebrates-same-sex-marriage
~oOo~