My Wonderful Encounter with a Charming Kahuna
Kahuna is a Hawaiian word defined in Pukui & Elbert (1986) as "a priest, sorcerer, magician, wizard, minister, expert in any profession."
More subtly, it is "an important person, the person in charge," or "a very large wave."
My Kahuna has, figuratively, something of both, i.e., it is magical, it is among the top of its kind, and its guest-friendliness is as big as a surfer's wave.
What I am talking about is the Kahuna Beach Resort and Spa, in San Juan, La Union, Philippines.
Before digging right into it, let's explore La Union a little bit.
It is one of the four provinces comprising the Ilocos Region (the others are Ilocos Sur, Ilocos Norte and Pangasinan).
La Union is northwest of Manila and can be reached three ways, i.e. by air, sea or land. If you don't mind covering 269 kilometers that can take four hours and a half, by land is the best option. It will give you a chance to see interesting communities along the way, like the former Clark Airbase which is now an economic zone.
The main source of income of the province is farming and fishing. It is famous for its basi, a native wine fermented from sugar cane, and grows plenty of rice, corn, garlic, tobacco and cassava. Some areas are good for growing grapes, too.
It is facing the West Philippines Sea and its long coastline of brownish to gray, fine sand has earned it the title of the Surfing Capital of the North because of the series of huge waves battering its shores – which brings us back to Kahuna where surfing is one of its fun activities.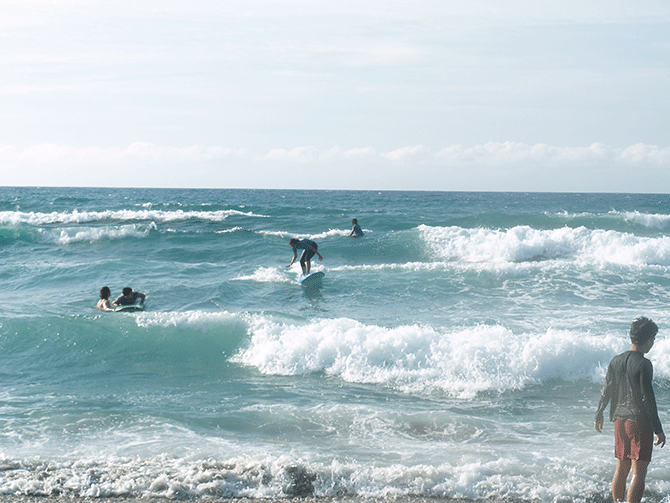 How I got to there is by default.
Maybe it was during our dinner at St. Joseph's Resthouse in Sagada when someone suggested that, instead of heading straight back to Manila the following day, the group shall take a swing to La Union because some members of the Philippine FJ Cruisers Club, Inc. wanted to meet us there.
So I got swept away by the group.
But it was serendipitous, to say the least. In fact it was love at first sight, not only because I have a sentimental attachment to the sea, but because it is difficult not to fall in love with Kahuna.
The lobby is well-appointed – neither too garish, nor bare. Its soft aura gives an immediate welcoming ambiance to travelers wearied after a long journey.
The girls behind the counter are very efficient, courteous and smiling – evident among the entire operations staff of the resort.
Kahuna has about 40 rooms, cum cottages, ranging from Standard (a little over US $100.00) to Rest House (over US $500.00).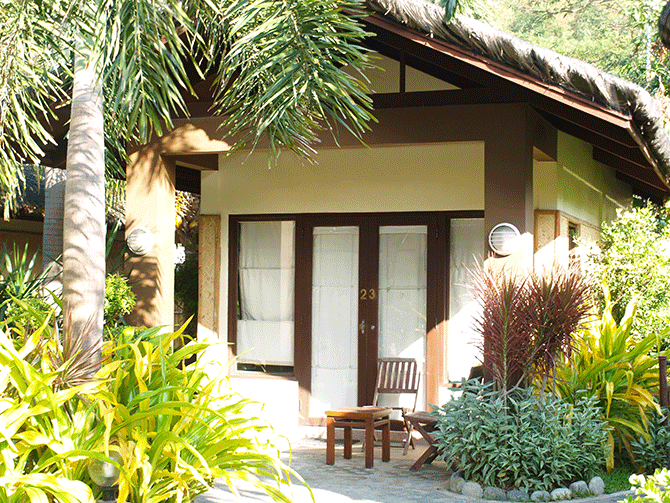 My room was at the bottom but it a lot better than those of some resorts I've been to. It is just perfect for a double occupancy. The toilet and bath are clean and stuffed with all the necessary toiletries. Bottled mineral water is in ample supply and the tiny porch provides space for contemplation or relaxation at the end of day. But more than anything else, the wifi signal is strong even in my room.
We rolled in slightly after 12 with lunch in everyone's mind. So we hit the dining area immediately. And it was something to behold. Not only was it huge to accommodate a hungry horde, it has a panoramic view of an entire ocean.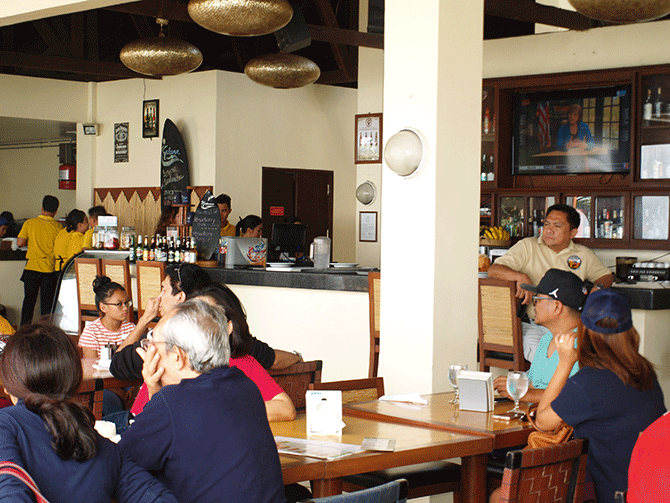 Menu is a mixture of Filipino, Western and a little Japanese, expertly prepared by a Filipino chef who gives his creations a bit of the famous Ilocano taste. Then he presents these in a way to whip up your appetite even if you have just had a hearty brunch.
Space is a common problem among resorts of Kahuna's type. The difference is that while others squeeze so many things into a small space, making them look like a fat woman in tight clothes, Kahuna maxed out its space.
The cottages are laid out like a small community of houses, enough parking space, sufficient amenities to cater to different guests, yet leaving enough room to wander about.
For example there is a function room, a spa, a billiard table for those who want to shoot a few balls, a smoking area and a modest swimming pool where I made four laps before breakfast.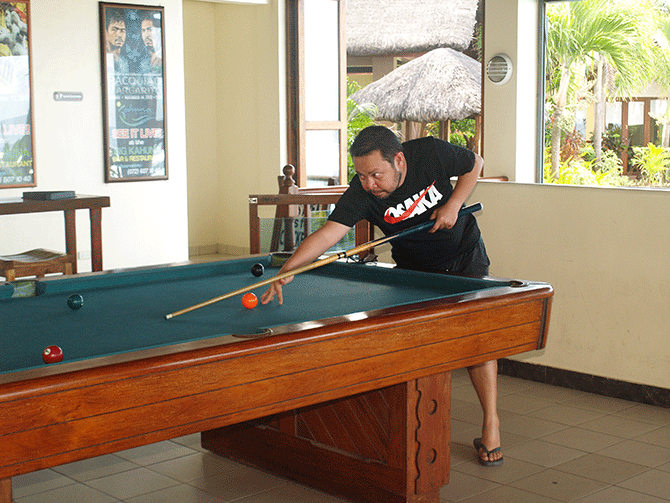 But what sets it apart from most is its huge beachfront.
It is long and wide for an array of early morning activities like this surfer stretching out prior to hitting the waves.
For bonding (some members of the group),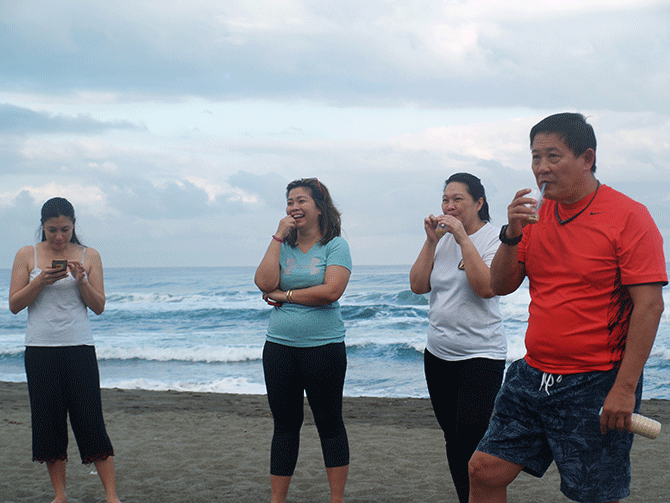 or posing for posterity.
Or for just anything you want to do while enjoying gusty breeze and the thunder of the waves as they hit shore. Or you can learn how to surf.
Later as I sat on the sand awed by the unceasing onrush of waves that broke just before my feet (and spilling student surfers time and time again) I felt a some disbelief that I am experiencing all these in such a short time. It seemed an entire lifetime of pure happiness was given to me in a small bottle, not to be opened lest it diffuses into thin air never to be experienced again.
But there I was, and it was real. And in as much as I want it to last forever, it won't. All I can do is hold on to their memories so that someday, when I am too frail to make it to my bathroom safely, it will be nice to think that long, long ago, a wonderful group of guys did not mind giving me a ride that took me to places I could never have made it on my own – even if I loved to.
To them, the Philippine FJ Cruisers Club Inc., I give my deepest gratitude.
~oOo~